Fringe dresses have made a resounding comeback in the world of fashion and for all the right reasons. These whimsical garments exude a sense of movement and style that is hard to ignore. If you're looking to add a touch of glamour and pizzazz to your wardrobe, fringe dresses are your go-to choice. In this blog, we'll delve into the world of fringe dresses and explore how to master their fashion with confidence.
The Allure of Fringe Dresses
Fringe dresses are all about drama, movement, and a dash of nostalgia. They first gained popularity in the roaring twenties when flapper girls would shimmy and dance the night away in their fringe-covered ensembles. Today, these dresses have evolved into a versatile fashion statement that can be adapted to suit various occasions.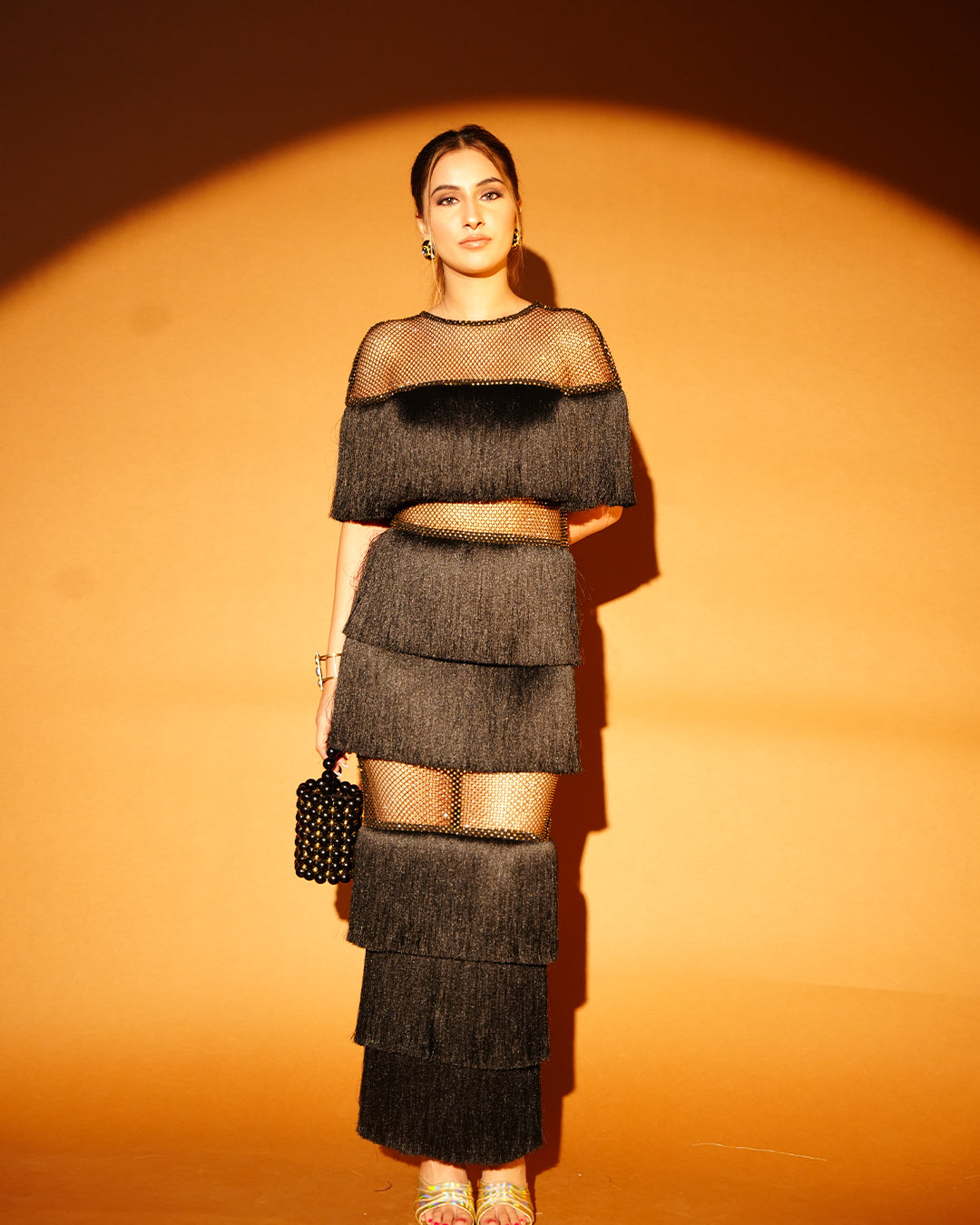 The Power of Movement
One of the standout features of fringe dresses is the mesmerizing movement they offer. As you sway and twirl, the fringes follow suit, creating a captivating visual effect that is bound to turn heads. Whether you're on the dance floor or simply walking down the street, the dynamic flow of fringes adds an element of excitement to your outfit.
A Versatile Wardrobe Addition
Fringe dresses come in a variety of styles, making them suitable for various occasions. You can find them in classic black for a formal event, vibrant colors for a night out, or even earthy tones for a bohemian vibe. With the right accessories and styling, a fringe dress can seamlessly transition from a casual daytime look to an evening affair.
Choosing the Perfect Fringe Dress
Before you start swaying with confidence, it's essential to find the perfect fringe dress that complements your style and body type. Below mentioned are some tips to help you make the right choice while choosing your dress:
Consider the Length
Fringe dresses come in various lengths, from mini to maxi. Consider the occasion and your comfort when choosing the length. Mini fringe dresses are perfect for a night of dancing, while maxi fringe dresses offer an elegant look suitable for formal events.
Explore Neckline Options
Fringe dresses are available with a range of neckline styles, including halter, off-shoulder, V-neck, and more. Select a neckline that highlights your best features and aligns with the event you're attending.
Play with Color
Fringe dresses come in a wide spectrum of colors. Choose a shade that complements your skin tone and reflects your personal style. Classic black is timeless, but don't shy away from vibrant hues or earthy tones that can add personality to your ensemble.
Pay Attention to Fit
Like any other dress, the fit of your fringe dress is crucial. Opt for a size that hugs your curves comfortably without being too tight. A well-fitted dress will allow you to move with confidence and grace.
Styling Your Fringe Dress
Once you've chosen the perfect fringe dress, it's time to style it with finesse. Here are some styling tips to help you master the look:
Minimalist Accessories
Fringe dresses are statement pieces, so it's best to keep accessories minimal. A pair of elegant earrings and a clutch bag should suffice. Refrain yourself from carrying excessive jewelry because that might steal attention from your outfit.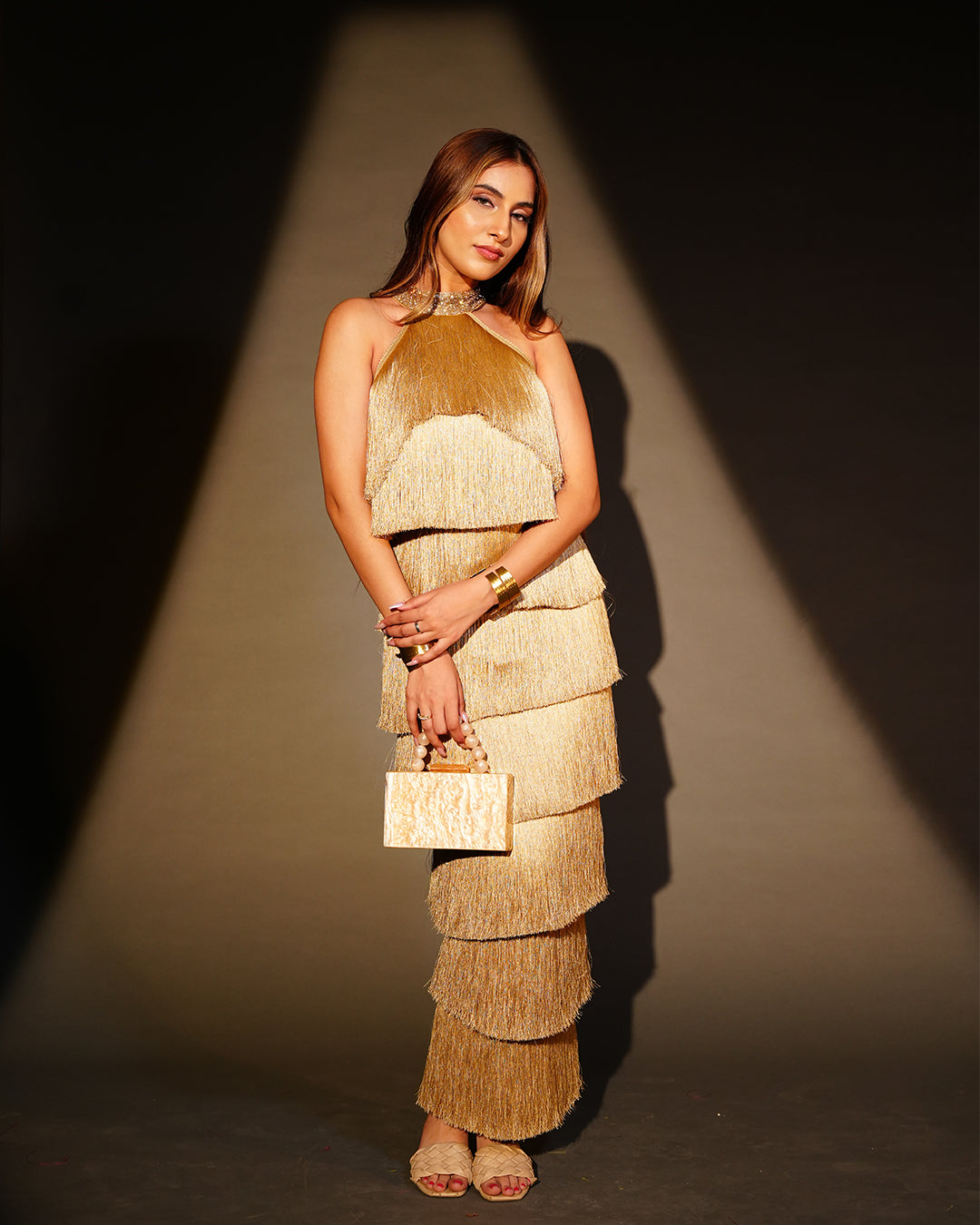 Footwear Matters
The choice of footwear can make or break your fringe dress ensemble. Strappy heels or ankle boots work well with shorter fringe dresses, while stilettos or pumps can elevate a longer gown. Ensure your shoes match the overall vibe you want to convey.
Confidence is Key
Perhaps the most important element in mastering the fashion of fringe dresses is confidence. Embrace the movement and flow of the fringes, and own the look. When you feel confident in what you're wearing, it shows, and you'll undoubtedly turn heads wherever you go.
Fringe Dresses for Different Occasions
Fringe dresses are incredibly versatile and can be adapted for various events. Here's how to style fringe dresses for women on different occasions:
Night Out with Friends
For a fun night out, opt for a short, colorful fringe dress paired with statement earrings and high-heeled sandals. Add bold lipstick to complete the look, and you're ready to hit the town with your friends.
Formal Event
When attending a formal event, choose an elegant black fringe dress with a sleek silhouette. Pair it with classic pumps, a clutch bag, and understated jewelry. This sophisticated look will make you the belle of the ball.
Bohemian Vibes
For a boho-chic style, select an earthy-toned maxi fringe dress. Layer your fringe dress with a denim jacket and ankle boots. Accessorize with a wide-brimmed hat and a fringe bag to complete the free-spirited look.
Beach Wedding
Fringe dresses can even be worn to a beach wedding. Opt for a pastel-colored fringe dress that flows with the ocean breeze. Pair it with strappy sandals and delicate seashell jewelry for a beachy yet elegant appearance.
In Conclusion
Fringe dresses for women are a captivating fashion choice that allows you to sway with confidence. Whether you're attending a glamorous event or enjoying a casual night out, these dresses by Wabi Sabi Styles can be styled to suit any occasion. With the right fit, styling, and a dash of self-assuredness, you can master the art of fringe dress fashion and make a lasting impression wherever you go. So, go ahead, embrace the movement, and let your fringe dress become a symbol of your unique style and confidence.